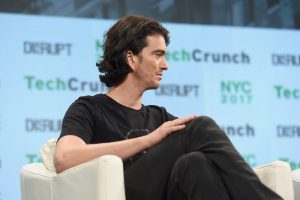 By now, you've heard about shared-office-space giant WeWork's decision to pull its IPO. Original plans offered by Goldman Sachs called for a valuation of up to $90 billion. Based on some adverse disclosures, that valuation was quickly lowered to $47 billion and then $10 billion.
After more adverse news and the pressured resignation of WeWork CEO Adam Neumann, the IPO was pulled entirely. That's a dismal scenario, but as this article reveals, the situation at WeWork is worse. Much worse.
The article takes the form of an interview with Professor Scott Galloway from the NYU Stern School of Business. Galloway says that not only is the IPO delayed, but it's never coming back. He suggests that WeWork is insolvent and will either file for bankruptcy or be bailed out at great cost by WeWork shareholder SoftBank and its CEO, Masayoshi Son. Total investor losses will be in the tens of billions and layoffs of about 10,000 employees should be expected.
The damage doesn't stop there. WeWork has hundreds of large-scale prime leases in cities around the world. If WeWork goes bankrupt, those leases will be terminated, leaving building owners high and dry.
Many of those owners undertook expensive remodeling to accommodate the WeWork business model. Those remodeling costs were expected to be spread over the life of 10-year leases, but if WeWork terminates the leases in bankruptcy, the remodeling costs will have to be written off immediately. This will put landlords in distress and lead to fire-sale pricing on some buildings and depressed commercial real estate values in general.
This could also mean the end of pie-in-the-sky IPO valuations and a drying up of investment banking fees. The negative ripple effects will spread from there.
This story is not over and the costs are far greater than markets have priced in so far. Every economic expansion ends with some spectacular failure such as Drexel Burnham in 1990 or Lehman Bros. in 2008. WeWork may enter that list as the massive failure that marks the end of an era.
Institutional investors can schedule a proof of concept with the world's first predictive data analytics firm combining human and artificial intelligence with complexity science. Check out Jim Rickard's company at Meraglim Holdings to learn more.